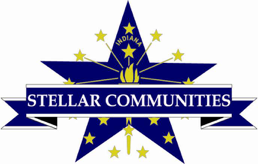 pdf

Delphi Stellar Project Background Information

Delphi, Ind.
– October 26, 2017 –A revitalized downtown, restored and expanded Delphi Opera House and new and upgraded trail systems were highlighted in Delphi Thursday, Oct. 26.
A gathering of community members and state representatives at the Delphi Opera House celebrated completion of $23 million in improvements begun five years ago when the town was named to participate in Indiana's Stellar Communities Designation Program.
"Today marks a significant milestone, both highly visible and behind the scenes," said Delphi mayor Shane Evans. "Downtown Delphi's ambiance is distinctive and inviting, thanks to new building facades, streetscapes and welcoming amenities. And underground, new water mains can now handle the water supply needed for upper-story sprinklers, and, thus, conversion of that space for residential and commercial use. And our trails bring nature into our daily lives."
"For decades to come, we're likely to refer to yesterday as pre-Stellar and the phoenix rising today and continuing for generations as post-Stellar," said Evans, who signed a mayoral proclamation honoring the project's completion and the community volunteers, donors and city leaders who "came together to solidify and implement the impactful, forward-thinking proposal."
The Indiana Stellar Communities Designation Program, established in 2010, is a multi-agency partnership recognizing smaller communities that have formulated comprehensive community and economic development plans, aligned partners and are ready to achieve new heights.
Delphi was one of 40 applicants and one of seven finalists for the 2012 designation. Two communities were chosen that year.
"We saw in Delphi a golden opportunity to capitalize on its planning, leverage assets, foster regional investment and stimulate long-term, relevant growth," said Jodi Golden, executive director of the Indiana Office of Community and Rural Affairs, administrator of the Stellar Program. "The results speak for themselves."
"The new Hoosier Heartland Corridor drew semis and heavy traffic from the portion of State Road 25 that ran through the middle of town, offering the opportunity to make downtown a welcoming, friendly destination," said Kathy Eaton-McKalip, director of local programs for the Indiana Department of Transportation. "That's what you see today."
"The community is now pedestrian friendly—downtown and through its expanded trail system, and the city can now leverage these improvements for future positives," said Brian Pohlar, engineer and project manager with Lafayette's HWC Engineering, a key contractor in coordinating the project.
The Delphi Opera House expansion and renovation has drawn visitors from the region for music, theater and other programs. "We are gaining regional recognition as a venue for fine performances and as a location for booking private events," said Anita Werling, president of Delphi Opera House Inc. and advisor to the Delphi Preservation Society, which owns the building. "More than that, the Delphi Opera House stands as a testament to the past and a gateway to the future."
During the five-year, community-wide project, the theme "Storied Past, Stellar Future" defined the respect for Delphi's heritage and its goal for the future. With projects completed, the milestone celebration was dubbed, "Stellar Past, Storied Future" to reflect the movement forward, Werling said.
"Being a part of a project that truly transformed a town is an architect's dream," said Kelly Good, architect and owner of Lafayette's KJG Architecture, Engineering & Interior Design, a project participant. "Projects like these are dreams come true for a firm like ours. That's no cliché, but a heartfelt reflection of what it means to be part of the success of the Stellar Program, which truly transformed Delphi. I know how challenging it is to secure funding to complete all these items in a short period of time in a small town. Yet, that's just what Delphi has done."
Carmen Lethig, placemaking manager at the Indiana Housing & Community Development Authority, also hailed Delphi's transformation. "From the beginning, the Delphi team identified the elements that would achieve positive impact, and today you can check off a healthy list of accomplishments."
Those include the Delphi Opera House; a new urban trail and refurbishment of a second trail; and downtown—35 building facades rehabilitated downtown, ten homes rehabilitated, water line replacement, and streetscape of new sidewalks, lighting, planter beds, plantings, road resurfacing and storm sewer installation across seven full blocks and five partial blocks.
A video produced by former Delphi resident Tyler Mose, CEO of Chicago's Indirap Productions, captured the final improvements. Refreshments were provided by Delphi's Stone House Restaurant and Bakery.
ABOUT THE CARROLL COUNTY ECONOMIC DEVELOPMENT CORPORATION:
A nonprofit enterprise, the Carroll County Economic Development Corporation is a proactive leader in a unified pursuit to provide a dynamic and prosperous economy for citizens and employers of Carroll County. For more information, contact Carroll County Economic Development Corporation, 241 North Heartland Drive, P.O. Box 83, Delphi, Indiana 46923, 765-564-2060,
http://www.carrollcountyedc.com.