Industries
Major industry in Carroll County include Ag Based, Food Processing, and Manufacturing.
AG BASED INDUSTRY
Hoosier Market Watch

(updated daily)
At the state level, animal agriculture represented $7.0 billion in revenues,
$1.2 billion in household income, and 32,600 jobs. In addition, it yielded
an estimated $287 million in income taxes, and $208 million in property
taxes
Over the past decade, the expansion of animal agriculture in Indiana has led
to increases of $1.6 billion in economic output, $271 million in household
wages, 7,200 jobs, and $64 million in tax revenue.


Source: United Soybean Board (2011 data)



The Facts
Soybeans in the form of soybean meal are fed as a protein source to livestock.
Livestock is the biggest consumer of Indiana soybeans.
Indiana Livestock consumed 1.18 million tons of soybeans meal in 2011.
39.3 million bushels of Indiana soybeans in the form of soybean meal

were fed to livestock in the state.

Hogs

– 16.7 million bushels

Egg Layers

– 10.6 million bushels

Turkeys

– 6 million bushels

Dairy Cattle

– 3.7 million bushels

Broilers

– 1.7 million bushels

Beef Cattle

– 600,000 bushel

Indiana Packers is the county's largest Ag Based Business and employer.
Indiana Packers

is a fully integrated pork production company that places a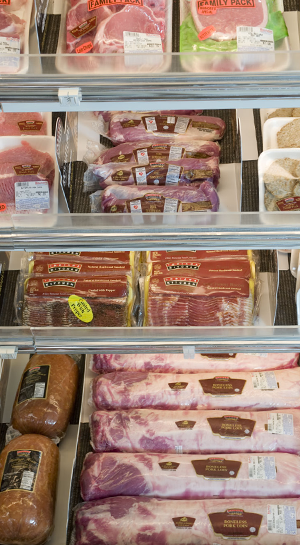 premium value on our relationships with our employees, our Midwest community, our earth and our partner customers in the food industry.
It's this simple, common-thread belief, starting with the executive leadership and running all throughout the team, that ensures the very best from our farms to you.
The Carroll County facility has expanded from a mere 270,000 square feet to more than 600,000 square feet. And, with our eye on the horizon, anticipating market needs, we're never done evolving. Indiana Packers employs more than 2,000 people who pride themselves on their work and the products they place in the hands of our customers. Indiana Packers' current daily production capacity is 16,800 hogs—up from 4,200 hogs a day as a startup operation in 1991.

In addition to their signature fresh pork items, Indiana Packers offers a variety of smoked meat products, such as ham, bacon and sausage that are sure to fit your retail or food service needs—in the U.S. or in markets around the world.

Ag Based Industry Resources:
Carroll County Ag Association